Silent incidents are fires that we are monitoring but are not considered a threat to the entire community at this time. They are displayed on Watch Duty as a small bell with a line through it, indicating it is silent and we are currently monitoring.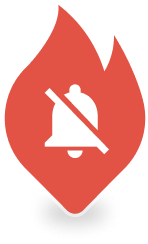 If this incident becomes a threat to the larger community we will upgrade this incident and push notifications will be sent.
Opt-in to receive notifications for silent incidents
If you would like to be notified of these incidents in your county can subscribe in the 'Notifications' section of the left hand menu. There can set more fine grained controls and get notified of these smaller incidents early.